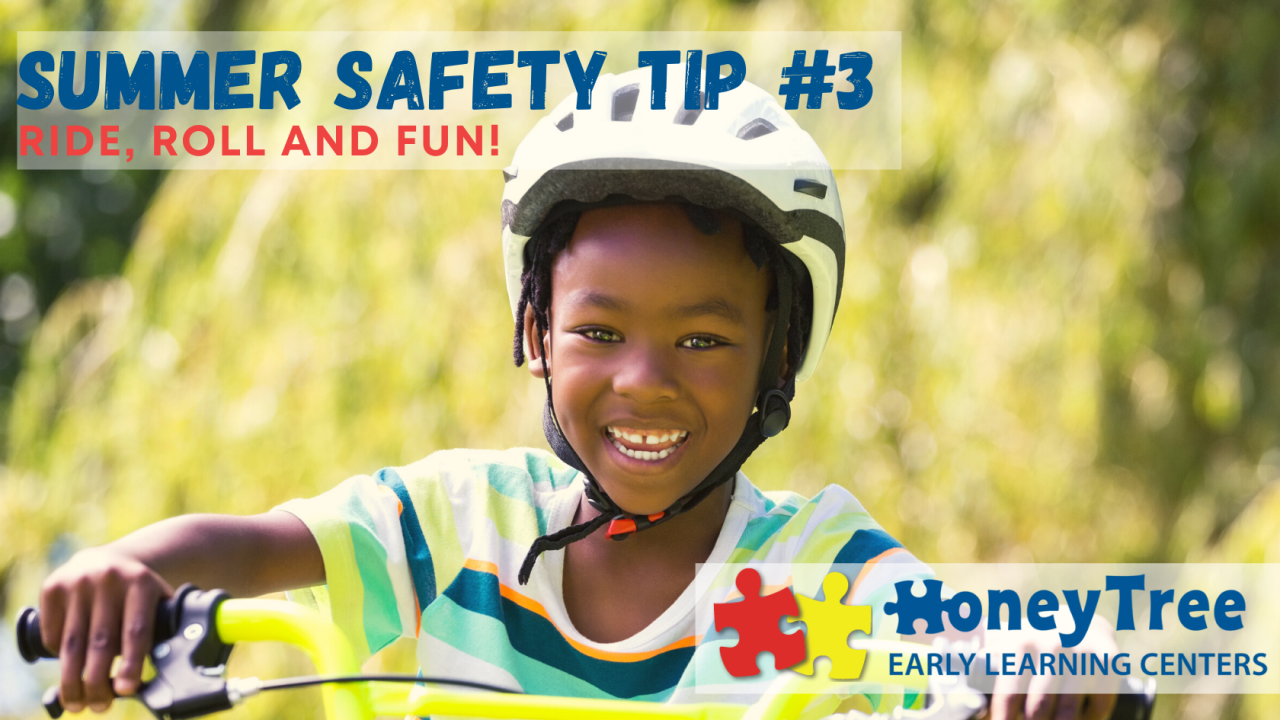 By Teresa Schaeffer
Bicycles, tricycles, scooters, rollerblades and skateboards can be a great way for children to exercise, burn off some energy, have some fun and develop a sense of independence while improving their gross motor skills at the same time but these activities are not without risk. Apart from automobiles, these activities are related to more childhood injuries than any other consumer products. The consumer Product Safety Commission estimates that there were nearly 240,000 accidents involving bicycles and tricycles alone last year.
Here are a few important things you can do to keep your child safe this summer:
Dress your child in bright or reflective clothing so that they can be seen easily and do not allow your child to ride when it is dark.
Never allow your child to wear headphones because they need to be able to hear oncoming traffic and pedestrians.
Make sure the equipment is the correct size for your child and that it matches your child's abilities. The child's feet should touch the ground when seated on a bike and it should be a good fit for their current age.
Make sure your child's equipment is in good working order. It should be kept in good repair and inspected often. On bikes be sure to include the brakes, tire pressure, gears (if applicable) and check the tightness of the chain. If you don't know much about the workings of a bike, find a local bike shop and ask for an annual tune-up.
If your child will be riding in the street, make sure they know the rules of the road to keep them safe. Riders should understand and obey all street signs, traffic lights and crossing signals and should always ride in the direction of traffic. Never against it. They also need to always be aware of cars coming out of driveways, parking spaces and parking lots. Make sure your child and knows the following hand signals so that they can effectively and safely communicate.

Left turn: Left arm extended straight out
Right turn: Left arm bent up at the elbow, or right arm extended straight out
Stopping: Left arm bent down at the elbow

Have your child wear a helmet every time they ride a bike. Be sure your child knows that riding with a helmet is non-negotiable and there are absolutely no exceptions to the rule and check to make sure that it fits properly and securely each time they ride.
Wearing a helmet is the easiest and most effective way to prevent injuries and provide life-saving protection for your child. A properly fitting helmet can reduce head injuries by up to 85%. The catch is it that it has to actually be worn. With so many different designs you can find one that is not only comfortable for your child to wear but also fits their style. Look for vents in the helmet for an extra cool ride and a dial adjustment system to make sure it has a very secure and comfortable fit.
No matter what style you choose, check that the helmet has been safety tested. The Consumer Product Safety Commission (CPSC) and American Society for Testing and Materials (ASTM) test helmets to see if they comply with certain minimum standards and are ready to protect your child in the case of a fall or accident. Look for at least one of these certifications on any product you are considering purchasing for your child. If your child will also be skateboarding, be sure to get a dual certified helmet for both biking and skateboarding. A dual certified helmet will have stickers on the interior that say both CPSC and ASTM.