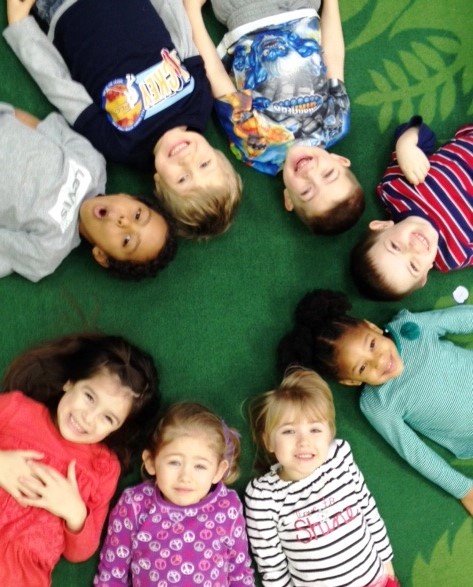 Space available for the 2017 - 2018 school year!
HoneyTree's quality Pre-Kindergarten program will not only prepare your child for the Kindergarten essentials of reading, math, and writing, but also for paying attention, following directions, and getting along with others.
Class begins on the Tuesday after Labor Day and will continue until the following August, so they get a full year of Pre-K! Your child must be 4 years old on or before September 30 to be eligible.
Children are served nutritious meals throughout the day. Daily schedules incorporate free choice center time, circle time, theme-related activities and "I Can Problem-Solve" activities. Gross motor activities, including outside play time and rest time are an important part of each day.
Highlights of the Pre-K Piece
Curriculum that meets the milestones and SOL guidelines required
Regular progress reports and parent conferences
Transition reports sent directly to your child's kindergarten teacher
PALS Testing
Developmental and educational screenings done on site
Weekly Spanish class
Children will be able to learn and play with iPads and Smart Boards
Daily meals included in tuition
An Average Day…
Morning Group
Each day begins with a large group activity. Learning self-control, communication, socialization, listening skills, math concepts (calendar), memorization, (finger plays and songs), and knowledge about the weekly theme (rain forests to space exploration) are all aspects of circle time! We create a special place to have it every day. Carpet squares or vinyl place-mats help each child have a "spot" in morning circle. "Radical Routines" are part of each morning circle time. Routines help children learn what to expect and repetition of familiar concepts help children learn faster. Songs, weather helpers, recognizing special activities, and explaining the expectations for the day are all important routines we add.
Small Group
Small group times offer you the opportunity to work with a few children at one time to provide an activity that requires more teacher participation. We use this time to make sure each child has a special time with us.
Large Group
This area develops communication and early reading skills. Learning how to care for books, holding them and turning a page in sequence are only a few of the first important steps in developing a respect for books and reading. Listening, a key learning concept, is also an important skill developed in this area.