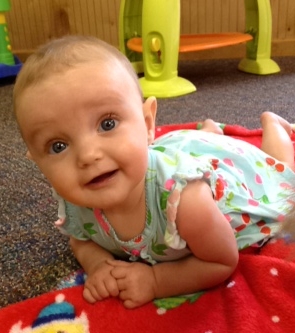 HoneyTree caters to the infants and toddlers individual schedule as provided by the parents. All day long, including meal times and during diaper changes, interaction and nurturing occurs. As your child grows, begins to develop new skills, and shows interest in new concepts that are introduced by our Teachers, they will be supported and encouraged along that journey of discovery and exploration.
Our infant program provides plenty of tummy time, exploration both indoors and outdoors, and numerous sensory activities.
As your child transitions to our toddler program they will become more curious about their environment. In order to support this, children are free to explore in a classroom that stimulates natural learning. We also read favorite books and sing songs each day during a short circle time.